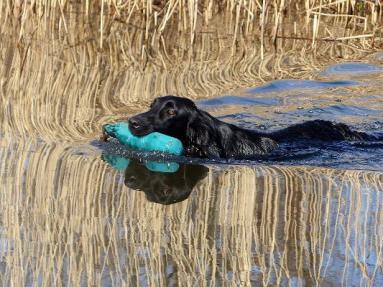 The Latin idiom fits perfectly - after all, it explains exactly what Flatcoated Retrievers should be doing: retrieving on water as well as on land. That's why the decision in naming our kennel was easily made … terra marique!
In August 2012, we have acquired our 'Kennel Protection Card' and ever since plan our litters according to the strict conditions of the DRC (Deutscher Retriever Club), the only club in Germany where Flatcoated Retrievers are bred under the regulations of the VDH (Verband für das Deutsche Hundewesen) and thus the FCI (Federation Cynologique Internationale).
Healthy, stable flats that meet the standard of their breed, look good and also work well - all in the sense of dual purpose - that is our goal!
Our foundation bitch Bhazouka comes from special breeding for hunting dogs and brings with her a passion for retrieving. Simultaneously, she has a very gentle nature and accompanies us regularly to dog training school and, in the past, also to sheltered workshops. Bhazouka combines all I have wished for in a dog and I hope that through suitable mating, we will be able to pass on her nature and behavioural traits.
As none of us have been interested in hunting in the past, it seems only logical to us to refrain from hunting tests until further notice. Things can always change but until then, we breed under the guidelines of standard breeding and take a sportive lead on dummy and working tests with our dogs.
Naturally, our dogs live in the house with us and we cannot imagine a life without them anymore. The best possible imprinting is of great importance to us, which is why the puppies grow up in our living area, completely connected to the family, and are consequently accustomed to all kinds of noises and everyday situations. From an appropriate age on, the puppies have access not only to the whelping box and the puppy room, but also to an outdoor area suitable for different weather conditions. The area is equipped with all imaginable play possibilities, objects and various surfaces.
From the sixth week onwards, we undertake short trips in nature, get used to driving in a car, playfully introduce them to the woods and to water, increase acoustic and optical stimuli and also consciously invite children to join us.
After 8 weeks, the puppies have been examined by a veterinarian and are dewormed, vaccinated, chipped and have been checked by a person of the DRC.
Besides, we start with the conditioning of the whistle, so that you have it easier later with the recall training. You will receive a VDH/DRC pedigree chart, a litter inspection report and an EU pet passport. In addition, we will provide you with a puppy folder with good memories, important information, training and care instructions as well as a starter package of the usual food and first training equipment.
For our puppies, we wish for responsible active people, who are ready to train and engage with their dog according to their nature. Flatcoated Retriever need a loving and consistent education, as well as a species-appropriate occupation, as they tend to occupy themselves otherwise. Originally, Flatcoated Retriever are passionate hunting dogs, bred for working after the shot, and retrieving on water and land is their passion. Naturally, they can also be employed elsewhere: Dummy work, rescue dog work, assistant dog training, obedience, agility, target search, lungeing, man trailing - the possibilities are manifold! With this, we mean a reasonable ratio and not a permanent entertainment program for the dog. One of the wonderful characteristics of retrievers is a calmness and balance in the house, paired with an absolute willingness and joy to work together on joint excursions.
Another important aspect is health. Therefore, we expect from the buyers that our puppies will receive all the health checks we deem necessary at the appropriate age.
This includes:
x-ray for hip and elbow joint dysplasia

examination concerning luxating patella

eye examination for goniodysplasia, PRA, RD and cataract
Only with these examinations it is possible to draw conclusions about the mating - an important contribution to the health of this wonderful breed.
Due to an examination rate of 100 % for our litters, solid work performance of our dogs and also beauty champion titles, we remain true to our efforts of the dual-purpose retriever and are very proud and happy to live, love and learn alongside this wonderful breed.
As responsible breeders, we will continue to be at your side with words and deeds even after handing the puppy over to you.
If you are interested in one of our puppies, we recommend you get in touch with us early so that we can get to know each other well. After all, we want you and our babies to get along and have fun for the rest of your dog's life!
If interested in one of the offered services (professional dog care or species-appropriate dog training) or if there are any questions regarding Flatcoated Retriever, I am looking forward to hearing from you. You can find our contact information under: Kontakt (info@terramarique.eu).
Thank you very much for visiting our website and enjoy reading, browsing and informing yourself!
Sandra Schild (Canine Behaviour Therapist) & Franziska Schild